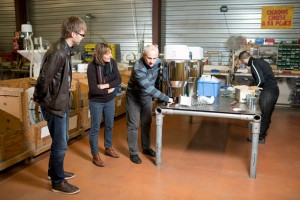 From December 8th to 12th, 2015 we were pleased to welcome Mr. Filip MIZIA of MAPRO Company, Slovakia
Mr. Filip MIZIA, a trained engineer who is responsible for the technical support for the development of the ancillary equipment, received training on our equipment from December 8th to 12th, 2015 in our premises in Gardanne.
Founded in 1991, MAPRO Company is established in Slovakia, Czech Republic and Poland and is specialized in the technologies for injection of plastics and automation for production and industry.
Mr. MIZIA's objective is to develop the ancillary equipment of FKW in Slovakia and Czech Republic.
On the occasion of the 25th anniversary of MAPRO, we will take part in the following two exhibition shows in 2016:
– International Engineering Fair of Machinery, Tools, Equipment and Technologies from May 24th to 27th in NITRA, Slovakia.
– International Trade Fair for Plastics, Rubber and Composites from September 12th to16th, 2016 at the Brno Exhibition Centre in BRNO,Czech Republic.